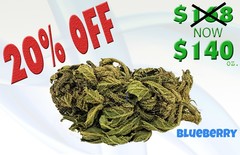 Reviews
Ms
Submitted on 2018-01-17
Carla
Can't beat the prices or the quality. Amazing service free gift every time and if I order in time I get it the next day every time wow thanks candelivery
Ms
Submitted on 2018-01-17
Carla
Can't beat the prices or the quality. Amazing service free gift every time and if I order in time I get it the next day every time wow thanks candelivery
Write your own review
Blueberry Ounce Special- 20% OFF
Save Money When You Purchase More! Save 20% When you purchase an ounce or MORE!
Smells and tastes great. It is 2000 High Times's Cannabis cup hybrid indica winner that will give you nice a head and body buzz. It is more on the leafier side then the our previous blueberry batch, but it does possess the smell and taste that we look for in the blueberry strain.
Treats- Chronic fatigue, depression, migraines, and chronic stress or anxiety.
80% Indica 20% Sativa